Amy Dowden broke down in tears on Channel 4's Stand Up To Cancer programme on Friday, sharing details of her "very tough" battle with breast cancer.
The 33-year-old Strictly star discussed how her body is being forced into menopause by hormone treatment and expressed her concern that she might not be able to conceive with her new husband, Ben Jones.
Amy discovered a lump in her right breast in April, one day before she and her partner left for a delayed honeymoon to the Maldives following their July wedding. Amy was formally diagnosed with the illness in May.
"I've had sepsis, blood clots, I had to have hormone treatment then I was put into menopause," she said to host Davina McCall.
"Yes Amy, you have cancer," the doctor said as I sat in that room. That was one jab. What are your "fertility plans?"
Since my spouse and I have only been married for a few months, they must essentially shut down my ovaries due to my estrogen-fed cancer.
'And it's just heartbreaking, and that is something I never knew, and the emotional impact has just been so difficult,' the speaker continued.
Amy did, however, also share some positive news: she would be starting her final chemotherapy session the following week.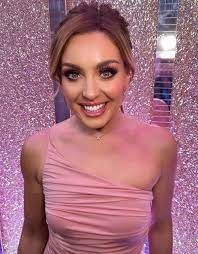 The Strictly Come Dancing favourite was understandably hugely emotional as her locks were shaved off after 'shedding' due to her chemotherapy treatment.