A well-known Tiktok star from Pakistan is Hareem Shah. She has a reputation for being direct and fearless.
Her scandals and controversies keep her in the news all the time. She gained notoriety last year when her money-laundering controversy went viral on social media.
Following her money laundering scandal, the Tiktok star also received backlash on her videos. She claimed in the video that this was the first time she was shipping a significant quantity from Pakistan to the UK. She received backlash after her money video went viral on social media.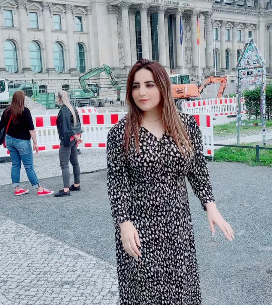 Hareem Shah recently made an appearance on the Ahmed Ali Butt podcast. Ahmed Ali Butt questioned the purpose of Hareem Shah's money-related viral video on the podcast. "Well, I want to reveal one thing that money laundering is quite a common thing, especially in Pakistan,
" Hareem Shah said in response to the question. "It is usually done through famous people who can easily move around because nobody can doubt them and they can carry huge amounts from one place to another." Although this practise may no longer exist, it did exist. In her own words,
Hareem Shah admitted to being involved in money laundering. I know it was wrong, but I indulged in it nonetheless. This is the video's link.