Raj Kundra, the husband of Bollywood star Shilpa Shetty, shocked the internet when he announced their "separation" following the release of the teaser for his first movie.
Businessman, celebrity spouse, and now actor Raj Kundra made the following announcement on his social media accounts early on Friday morning: "We have separated."
He continued, "…and kindly request you to give us time during this difficult period," adding the emojis for praying hands and a broken heart after it.
The separation of Shilpa Shetty and her husband, Raj Kundra, has recently become a subject of public interest. Shilpa Shetty, a well-known Bollywood actress and television personality, and Raj Kundra, a successful businessman, had been a high-profile couple in India. However, their decision to separate has captured headlines and sparked conversations about personal relationships and the challenges that couples may face.
Shilpa Shetty Journey
Shilpa Shetty, known for her versatility in the entertainment industry, had maintained a public image of grace and resilience. She has been celebrated for her acting career, her role as a judge on reality television shows, and her fitness and wellness ventures.
Her marriage to Raj Kundra, a businessman with interests in various sectors, seemed to be a partnership that balanced their respective careers.
The decision to separate is a deeply personal one, and the reasons behind it are known best to the individuals involved. It serves as a reminder that even in the spotlight, celebrities face the same emotional and personal challenges that many others do.
This separation highlights the importance of respecting the privacy and autonomy of individuals when they make decisions about their personal lives.
In the aftermath of the separation, both Shilpa Shetty and Raj Kundra have faced the public eye with dignity.
Their focus on maintaining a sense of normalcy for their family and children has been evident. The way they handle this difficult period can serve as a lesson in grace under pressure.
As with any high-profile separation, the situation has attracted media attention, with various speculations and reports. It's crucial to remember that the truth of such matters is often more complex than what is portrayed in the media.
Shilpa Shetty and Raj Kundra's separation serves as a reminder that personal challenges and the complexities of relationships are universal. How individuals navigate these challenges can influence their personal growth and resilience.
For Shilpa Shetty and Raj Kundra, it remains to be seen how their individual journeys will unfold, but the public response to their situation reflects the empathy and understanding that people can have when faced with such circumstances.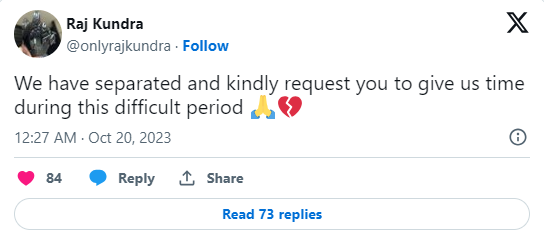 On the same day, however, Kundra made it clear that he had genuinely shed the "masks" he had worn for the previous two years, ever since he was charged with creating and disseminating pornographic information in July 2021 and imprisoned for two months.
Kundra said goodbye to the several masks that had sheltered him during this difficult time a day after the trailer for his debut biographical film, "UT69," which is based on his experience in the packed Mumbai Central Prison, also known as Arthur Road Jail, was released.