Ramsha Khan and Ahad Raza Mir are two talented and celebrated Pakistani actors who have made their mark in the entertainment industry.
Both actors have garnered a significant fan following and have been recognized for their outstanding performances in various television dramas and films.
Ramsha Khan, known for her beauty and acting skills, has gained popularity for her versatile roles in dramas.
She has portrayed a range of characters with finesse, showcasing her talent and dedication to her craft. Her performances have earned her critical acclaim and a strong presence in the industry.
Ahad Raza Mir is another prominent name in the Pakistani entertainment scene. His acting prowess and charming personality have made him a heartthrob among fans. Ahad has been a part of several successful dramas and has won numerous awards for his exceptional acting skills.
His collaboration with Sajal Aly, another talented actress, in the drama "Yaqeen Ka Safar" gained immense popularity and earned him widespread recognition.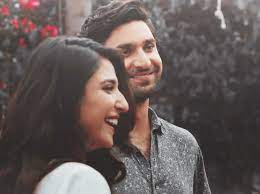 Ahad Raza Mir and Ramsha Khan share fantastic on-screen chemistry and genuinely enjoy each other's company.
While they remain close friends for now, who knows what the future holds? Perhaps one day, they'll have some exciting news to share.
In the world of showbiz, surprises and unexpected developments are not unusual. Ahad Raza Mir and Ramsha Khan's story is one that many are watching with keen interest, and whatever the future holds for this dynamic duo, it's sure to be filled with excitement and anticipation.