The Lux Style Awards of 2023, which took place on Friday night, had a mixed selection of fashion styles. Some of the looks resembled those of a common wedding function, but there were a few that truly captivated us. We have put together a list of our favorite standout looks from the event to ensure that everyone celebrates the stars who nailed it.
Ayesha Omar
Ayesha Omar turned heads at the awards ceremony by wearing a gorgeous midnight blue Rashmi Kumari two-piece outfit. The dress had a contemporary look but also featured traditional elements such as the saree-style draping of the skirt.
The outfit gave her the appearance of a 1920s Hollywood heroine, and we absolutely loved it, particularly the hairstyle that brought her whole look together.
Saba Qamar
Among the glamorous attendees was the renowned actor and model, Saba Qamar, who once again captivated everyone's attention with her choice of attire.
Dressed in an elegant light-colored gown, Saba Qamar exuded charisma and elegance, further enhancing her enchanting presence. Clips featuring the talented actress in a white gown paired with a short top quickly gained popularity online as she effortlessly struck poses.
Saba Qamar stuns in a creation by
Dress @shehlachatoor
Styled by @zahrasarfraz
Mua @nabila_salon @bryan.makeupartist1
Ayeza Khan
Ayeza Khan graced the Lux Style Awards 2023 in an exquisite black dress, radiating timeless elegance and sophistication. The black ensemble showcased a perfect blend of modern design with classic charm, accentuating her grace and beauty.
The silhouette and detailing highlighted her figure gracefully, while the choice of black added an aura of sophistication and allure to her overall look.
The dress, undoubtedly a statement piece, was a testament to Ayeza Khan's impeccable style and fashion-forward choices, making her a true standout at the event.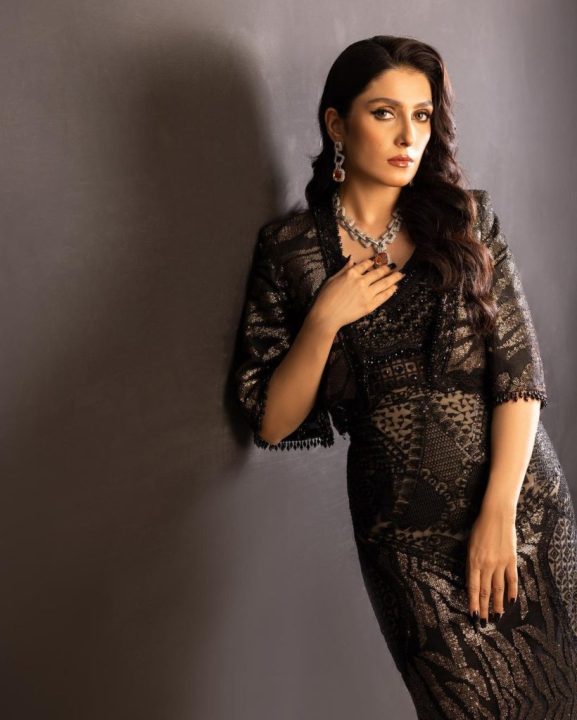 Aima Baig
Aima Baig exuded sheer elegance and grace. The delicate hue beautifully complemented her, enhancing her natural radiance and adding a touch of sophistication to her look.
The dress showcased her impeccable style and fashion sense, emphasizing her poise and confidence. Aima's choice of attire not only accentuated her features but also reflected her exquisite taste, making her a vision of timeless beauty.
Aima baig stuns in a creation by
📸 @abdulsamadzia
👗 @sairajaffery
💄 @ayan_khanofficial
The 22nd Lux Style Awards are happening today in Karachi, Pakistan. The event will feature performances by many famous Pakistani celebrities, including Farhan Saeed, Maya Ali, Saba Qamar, and others who will showcase their talent by performing classic Pakistani songs on stage.
.