Nimra Khan, a name synonymous with beauty and elegance, recently left us all awestruck with her latest bridal photoshoot, where she transformed into a breathtaking princess. With her ethereal charm and timeless allure, Nimra Khan has redefined the concept of bridal beauty, making us all believe in fairy tales once again.
Nimra Khan, a versatile actress and model, is a familiar face to the world of entertainment. Her grace, charm, and ethereal beauty have captured the hearts of many, both on and off the screen.
In her latest bridal photoshoot, she epitomized the essence of elegance and beauty, embodying a modern-day princess.
Nimra Khan's bridal photoshoot was not just a series of pictures; it was a living, breathing fairy tale. The stunning bride-to-be embraced her role with flawless precision, showcasing a seamless blend of traditional and contemporary bridal fashion.
Her bridal ensembles were a testament to her impeccable sense of style, capturing the spirit of a modern-day princess.
The Bridal Photoshoot
A Living Fairy Tale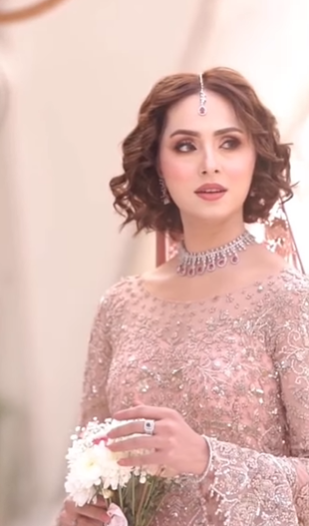 In every frame of the photoshoot, Nimra Khan radiated an aura of grace and regality. Her poses and expressions conveyed a subtle confidence and an air of enchantment, as if she had sprung from the pages of a fairy tale.
Her ethereal beauty and poised demeanor in these images truly captivated the imagination and hearts of those who had the privilege to behold them.
Nimra Khan has shown that the two can coexist harmoniously in a breathtaking bridal photoshoot.