Actress Minal Khan from Pakistan gave birth to her first son.
Details indicate that on Wednesday afternoon, the actress and her spouse Ahsan Mohsin Ikram announced to their followers on Instagram that they had welcomed a boy.
According to the post, Muhammad Hasan Ikram was the little visitor that Minal and Ahsan welcomed into the world on November 1 at 10:48 a.m.
In a heartwarming moment that has filled their hearts with immeasurable joy, Minal Khan and Ahsan Mohsin have been blessed with the arrival of their baby boy.
This beautiful chapter in their lives is a testament to the love and happiness they share as a couple.
The news of this blessed addition to their family has been met with excitement and warm wishes from fans, friends, and well-wishers.
As Minal and Ahsan embark on this incredible journey of parenthood, the love and support they receive from their loved ones are sure to be their guiding light.
This momentous occasion is not only a cause for celebration but also a reflection of the enduring bond that Minal and Ahsan share.
It marks the beginning of a new adventure filled with laughter, late-night cuddles, and the joy of watching their little one grow.
As they embrace the challenges and joys of parenting, the couple is undoubtedly in for an extraordinary and love-filled ride.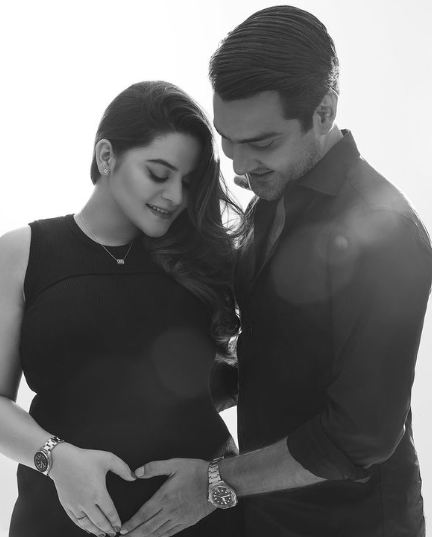 Minal asked that prayers be said for them all.
In the post's comments area, well-known celebrities are expressing their prayers and best wishes to the couple and the newborn. While wishing Ahsan, Manal, and their young child well, admirers are also doing so.