In a poignant romantic message, Bollywood actor Hrithik Roshan wishes his girlfriend Saba Azad a happy 38th birthday, stating, "It feels like home with you."
"We all look for that place," the War actor said beside a gorgeous shot of Saba on Instagram. That spot in a relationship where you can both feel motivated, warm, and secure enough to yell, "C'mon life, gimme what you got, bring on the adventure!!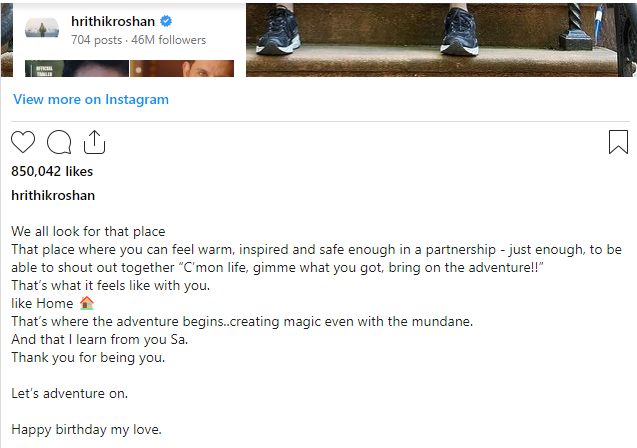 "That's how it feels with you," he continued. similar like home."
"That's where the journey starts – weaving magic out of the ordinary." and that you, Sa, teach me. I admire you for who you are.
After being photographed together for the first time on a dinner date in February of last year, Hrithik and Saba finally announced their romance to the world at director Karan Johar's 50th birthday celebration in May 2022.
He say
That place where you can feel warm, inspired and safe enough in a partnership – just enough, to be able to shout out together "C'mon life, gimme what you got, bring on the adventure!!"
That's what it feels like with you.
like Home 🏠
That's where the adventure begins. Creating magic even with the mundane.
And that I learn from you Sa.
Thank you for being you.
Let's adventure on.