In recent times, there has been a surge in solidarity from celebrities worldwide with the people of Palestine.
From actors and musicians to activists and influencers, a growing number of public figures have been using their platforms to speak out in support of Palestine.
Their collective voice has become a significant force in advocating for peace, justice, and an end to the longstanding conflicts in the region.
The plight of the Palestinian people, who have endured decades of conflict and suffering, has gained international attention and empathy. Celebrities, by virtue of their reach and influence, have recognized their responsibility to use their voices for social change.
They are leveraging their star power to shed light on the humanitarian crisis in Palestine, demanding a peaceful resolution to the ongoing conflicts and a just solution for all those affected.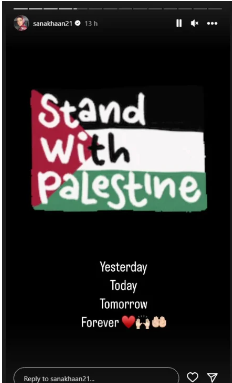 By speaking out for Palestine, these celebrities have become part of a global movement that transcends borders, cultures, and religions.
Their actions emphasize that the quest for peace and justice knows no bounds, and the support for the Palestinian cause is not limited by geography.
In doing so, they have elevated the cause to an international level and added their voices to a chorus of concern for the suffering of the Palestinian people.
This show of solidarity from celebrities is a testament to the power of public figures to bring attention to important social and humanitarian issues.
It sends a strong message that peace and justice should be universal values, and that the world is watching, demanding a resolution that respects the rights and dignity of all those involved.
As they continue to speak out, these celebrities play a crucial role in keeping the spotlight on the ongoing issues in Palestine, making it a cause that transcends borders and garners support from individuals and nations worldwide.