Malaika Arora, a dancer and actress from Bollywood who turned 48 on Monday, responded to reports that she and her boyfriend Arjun Kapoor were splitting up.
When asked about the persistent breakup rumours involving Arjun in a recent interview, Malaika responded, "I am at that stage where I have spoken when I had to speak."
Nothing has to be clarified because everything that needed to be said has already been spoken, I said.
"As the sun sets on another year & I turn 48, (in my favorite bathrobe) I am grateful for the peace, my people, and my calm that has been my companion throughout this journey," she wrote on Instagram, sharing a glimpse of her 48th birthday celebrations.
Each minute feels like a soothing whisper as it leads me to self-discovery and inner power while I sit here.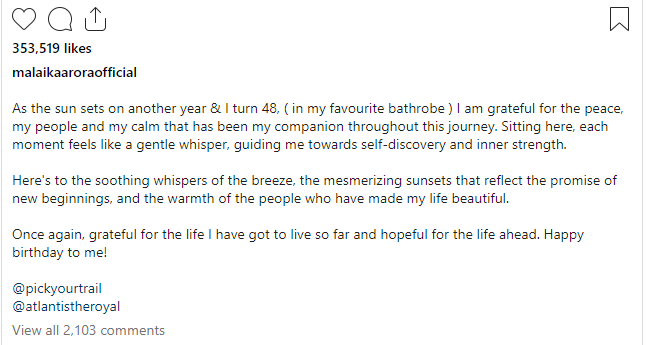 The Dabangg actress proclaimed, "Here's to the tranquillizing whispers of the breeze, the captivating sunsets that reflect the promise of new beginnings, and the warmth of the people who have made my life beautiful.
"Once again, grateful for the life I have had to live thus far and hopeful for the life ahead. To me, a happy birthday.