In the vibrant realm of Pakistani entertainment, Hania Aamir stands as a beacon of youthful energy, raw talent, and authenticity. A remarkable actress and a social media sensation, Hania has carved her path in the entertainment industry with a refreshing and unapologetic approach.
Hania is a true fashionista, known for her chic style and trendy outfits. Her fashion choices resonate with the youth, making her a style icon and an influencer in the fashion industry. Yet, beyond the glitz and glamour, she remains genuine, promoting self-expression and encouraging her followers to stay true to themselves.
Apart from her acting and fashion endeavors, Hania Aamir is also recognized for her philanthropic efforts. She engages in various charitable activities and uses her influence to raise awareness about critical social causes. This showcases her deep empathy and the desire to make a positive impact in society.
As she continues her journey in the limelight, Hania Aamir remains an aspirational figure for the youth, representing the dreams, aspirations, and talents of an entire generation. Her unwavering dedication to her craft, combined with her genuine and down-to-earth personality, ensures that her star will continue to rise. Hania Aamir is a force to be reckoned with, and her story is one of inspiration, resilience, and creativity that will undoubtedly shape the future of Pakistani entertainment.
Her Acting Skills and On-Screen
Her acting skills and on-screen charisma were quickly recognized, leading to numerous roles in popular TV dramas. Hania showcased her acting prowess in shows such as "Titli," "Visaal," and "Anaa," where she portrayed a diverse range of characters, each with depth and nuance. Her performances were met with critical acclaim and resonated with audiences, establishing her as a prominent figure in the Pakistani drama industry.
Beyond her career in entertainment and fashion, Hania uses her platform to address societal issues and advocate for mental health awareness and body positivity. She openly discusses her own struggles and encourages others to embrace self-love and acceptance.
Hania Aamir in black sari
Hania Aamir graced the spotlight in a breathtaking black sari, effortlessly blending traditional elegance with modern allure. The richness of the black fabric perfectly complemented her radiant complexion, creating a mesmerizing contrast that caught everyone's attention. The intricate details of the sari accentuated her grace, each fold telling a tale of timeless beauty and sophistication.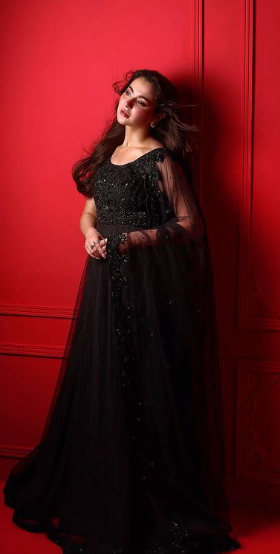 As she adorned this classic ensemble, Hania exuded confidence and poise, embodying the epitome of grace and style. The way the sari delicately draped around her showcased her understanding of fashion, revealing a sense of empowerment that comes from embracing one's heritage.