Just two days before the start of season 7, Netflix announced that the Spanish-language teen drama series "Elite" will return for its eighth and final season in a post on the microblogging platform X, formerly known as Twitter.
The streamer stated, "Élite has been renewed for an eighth and final season, and Season 7 premieres this Friday.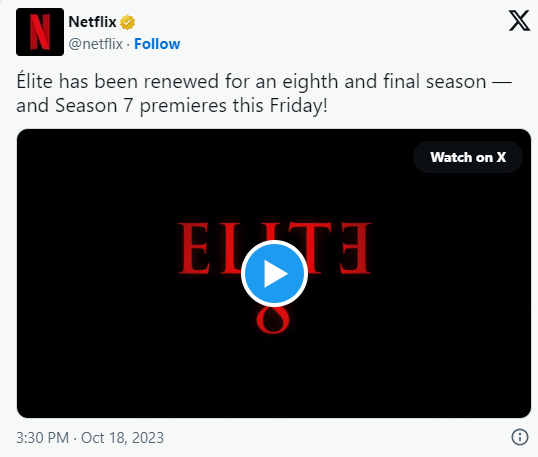 At the press presentation for the following season, Carlos Montero, the show's creator, said that the eighth and last season of Élite is currently in production. "We finished strong."
"Jaime Vaca, the season's co-showrunner], Netflix, and I thought it was time to end it," he continued. I regret saying this because it's been a lovely few years during which I've met wonderful performers, collaborated with all the filmmakers we wanted to collaborate with, and had Maribel available to us for the last two seasons.
Announcement
The announcement that "Élite" has been renewed for one final season on Netflix brings both excitement and a sense of closure to fans of the popular Spanish teen drama series.
Over the years, "Élite" has garnered a dedicated fan base for its intriguing blend of mystery, romance, and drama set against the backdrop of a prestigious school.
With the confirmation of an eighth season as the grand finale, viewers can look forward to seeing how the intricate plotlines, complex characters, and simmering conflicts will come to a dramatic conclusion.
This decision to end the series with one more season is a thoughtful one, allowing the creators and writers to wrap up the storylines in a satisfying and meaningful way.
It's also an opportunity for the characters to take their final bows and for the audience to bid farewell to a show that has kept them entertained and engaged for several seasons.
"Élite" has not only entertained but also addressed various societal issues, adding depth and relevance to its storytelling. As the show approaches its conclusion, fans can expect high-stakes drama, unexpected twists, and a satisfying resolution to the mysteries that have kept them guessing.
In the world of streaming television, where series can often continue indefinitely, the decision to end "Élite" with a final season demonstrates a commitment to delivering a well-crafted and conclusive story.
It's a chance for fans to savor the last moments of a series they have cherished and, in the tradition of all great dramas, to see how the threads of the narrative are elegantly tied together.