Adnan Siddiqui is a renowned producer as well as a talented Pakistani television actor. He has a long history of performing in television. He appeared in some incredible TV shows, such as Mere Paas Tum Ho, Ishq Junoon Deewangi, Zaib Un Nissa, and Uroosa. Prominent dramatist Ghughi, Seeta Bhagri, and Ghammandi are among the works of art that the actor has created.
In addition, he produced the motion picture Dum Mastam. A producer on Sultan Selahaddin Eyubi, a joint Pakistani-Turkish production, is Adnan Siddiqui. Additionally, he has been a successful host of Tamasha, the most talked-about reality show in Pakistan.

The viewers are expressing dissatisfaction with the video as they believe Adnan Siddiqui placed his hand on the girl's back, a moment caught by the cameraman. Social media users advocate for maintaining a professional distance between senior actors and their female colleagues, resulting in extremely critical remarks about the actor.
Fans are drawing comparisons between Adnan Siddiqui's actions in the video and his character "Shehwar" portrayed in Mere Paas Tum Ho, adding to the negative commentary.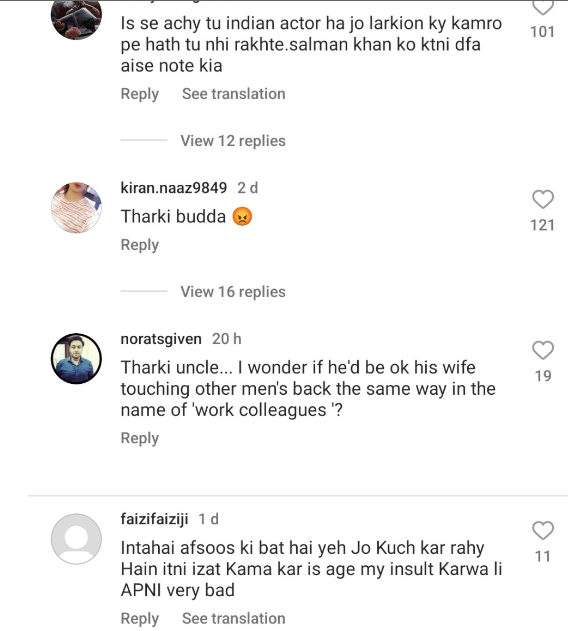 Social media users have emphasized the importance of maintaining professional conduct and respecting personal space, especially when it involves colleagues, regardless of gender. The incident has prompted a discourse on the responsibility of seasoned actors in setting positive examples and upholding ethical behavior in their interactions, both on and off-screen.
Furthermore, the comparisons drawn between Adnan Siddiqui's real-life actions and his character "Shehwar" from the popular drama series Mere Paas Tum Ho have added fuel to the criticism. Fans, drawing parallels between Siddiqui's behavior in the video and the morally questionable persona
He portrayed on-screen, have intensified the scrutiny and contributed to the negative comments circulating online.